Mike's Road Running History
Adjusting to the Sonoran Desert
I began running in April 1978. My first race was the Chicago Distance Classic 20K in early July. I ran my first marathon in September 1978.
I have now started my 41st year of running. In July 2010, I competed in my 500th race and I completed #600 in July 2013. It has taken a little longer to get to 700 since there are a lot fewer races out here in Southern Arizona. I hit that target in January 2017. Who knows - maybe I'll hit 800 by the time I'm 80.
I decided to create this web site to document some of my running history and to display some of my memorabilia and stuff collected over these many years. For some reason, I started keeping a scrapbook with each bib number and recording a few notes on each one to remind myself of the event. Since some races didn't have bib numbers in those early days, I kept notes on something else.
So here it is -
my electronic running scrapbook.
Lifetime Races: 745
Lifetime Finishes: 744
Half a race, half a race,
Half a race onward,
All in the Valley of Life,
I have run 700!
Still Nuts!
Among the Pecan Trees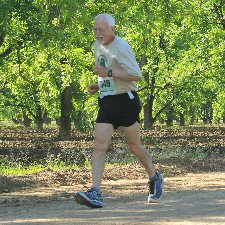 2018 Nut Run 5K

My Running Club Affiliations Over The Years
My Running Statistics
Average Race Distance
5.8 Miles
Races at Each Distance
The Life I Love is Running with My Friends
---